Greg Sewell Forgings
Founded in 1933. Wholly Australian owned.
Established 1933, GSF is one of Australia's largest, longest standing, quality assured forgings manufacturing and custom forging operations. Our factory and Head Office is located at Campbellfield, Melbourne.
GSF is an Australian owned company that manufactures and employs here. We respect our employees and value supporting their livelihoods.
We supply many critical industries including power, rail, mining, construction, water and many more.
We deeply value our relationships with all our clientele and the people our industry serves. We have a wealth of knowledge and long, respected history in the supply of engineered and manufactured components, products and services and help bring our clients projects to successful conclusions, including all facets of design, construction and manufacturing.
Please call +61 3 8301 1500 to speak to one of our specialists, or contact us via email.
Eyebolt forging inside the GSF Factory 2018.
History
Greg Sewell Forgings is owned and run by The Stevens Family.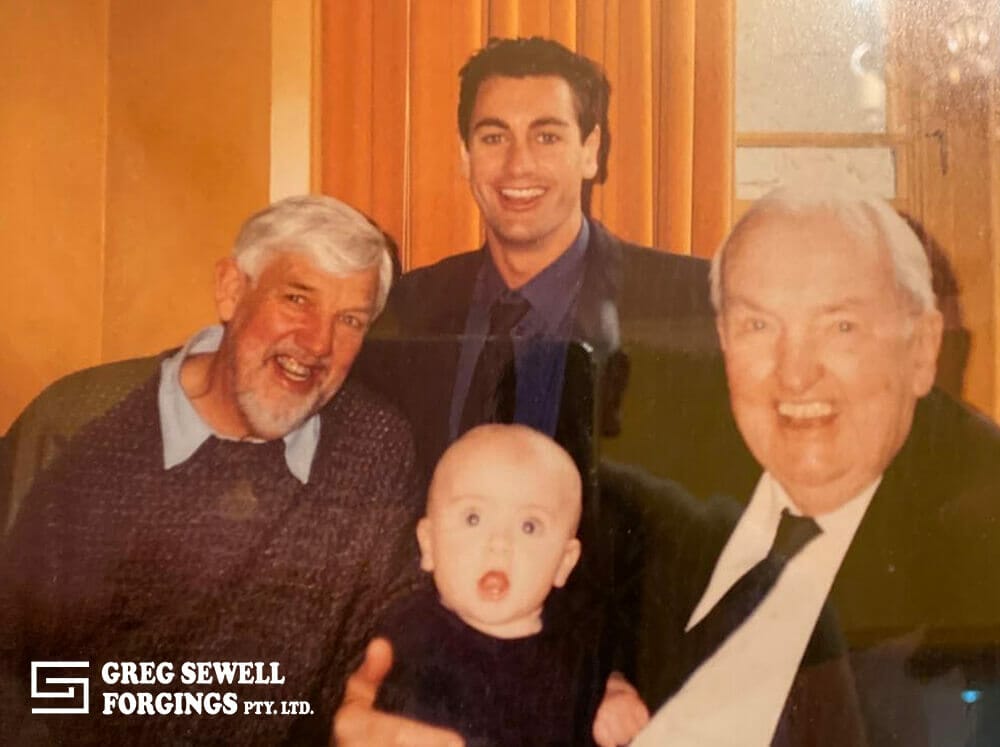 Founder Bill Stevens with Son Godfrey, Grandson John & Great Grandson Billy.
The Stevens name has been synonymous with high quality forging and manufacturing since the 1930's; when the late Bill Stevens, along with his father Charles, first founded and developed, West Footscray Engineering – one of Australia's premier forging companies. Bill's son, Godfrey Stevens, joined his father at West Footscray and worked there for thirty years, the last six of which were as Managing Director. In 1995, Godfrey purchased a 50% shareholding in Greg Sewell Forgings (GSF).
Established in 1983, GSF had been a partnership between Greg Sewell and Jack Luke. When Greg retired in 2010 he sold his share of the business to Godfrey, who is now the current Greg Sewell Forging's owner and Managing Director. Also in 2010, Greg Sewell Forgings purchased Westray Engineering, based in Caringbah, NSW and appointed Mr Robert Borg as their manager. 'Westray,' was a Sydney based subsidiary company originally established as a part of West Footscray Engineering and now acts as a sister company to GSF.
Godfrey Stevens leadership and hands-on, operational and management expertise in the metal industry has been a substantial benefit to GSF and the entire workforce which includes sons John and Tim, nephew Will and grandson Billy, all of whom work in the family business.
Business Objectives
Our aim is to provide customers with a cost-effective, total logistics service.
Establishing strategic alliances with each of our customers has allowed us to implement collaborative, long-term demand forecasting to accurately determine the support inventory of products necessary for our customers to maintain continuous operation of their respective businesses.
This process is further enhanced through our workforce's commitment to flexibility and high levels of productivity; strict accountability for compliance with our process control system through all stages of competitive tendering, customer order entry, production planning, tooling design and manufacture, product manufacture, process scheduling, final inspection, delivery to the customer, invoicing and payment and ongoing support.
A NATA registered metallurgical testing laboratory supports our manufacturing operations.